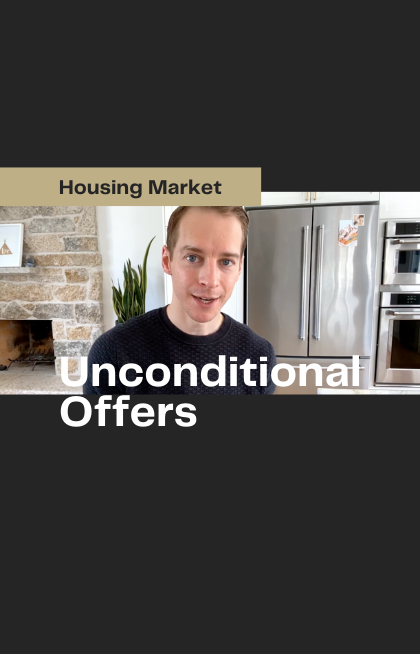 The market is very competitive for buyers in the Winnipeg real estate market. Low inventory and low interest rates are leading to a market where unconditional offers are becoming the norm if you want to be successful in a bidding war. Before you consider writing an offer with no conditions, watch the video to make sure you know what you are getting yourself in to.
Subject free, unconditional, or clean offers. They all mean the same thing. An offer with no conditions. Sounds kind of reckless doesn't it? So why are buyers writing offers like that?
If you are a buyer in a very competitive market like you'll find in Winnipeg right now, there is a good chance that you'll find yourself in a bidding war. With housing inventory being so low right now, it's not uncommon to hear of a house getting 10-20 offers on it. And the offers that come out on top usually don't have any conditions – like financing or home inspection for example. What makes an offer like that so attractive to a seller is that their property is officially sold as soon as they sign it. There's no waiting for conditions to be satisfied, the price and terms are set in stone and the buyer can't back out of the deal without serious repercussions. The unfortunate reality is that if you are writing an offer with conditions in it, your chances of getting a house under competition go down significantly. I've even seen sellers accept clean offers that were lower in price than ones that had conditions in them. They valued certainty over the dollar amount. And a lot of these unconditional offers are written because buyers lose out on a number of homes, get frustrated and then start removing conditions that protect them to make their offer more attractive.
Of course there are dangers associated with writing an unconditional offer, but it doesn't mean that you need to blindly buy a house and not do any due diligence. It just means that you need to know what the potential risks are and how to significantly reduce them. Most of this is done by putting in the work ahead of time instead of after the offer is accepted and making sure you have the right guidance and information in place to help you decide if you are comfortable and capable of writing a clean offer.
The first and most important step is to make sure that you are pre-approved for a mortgage so you know what amount you have to work with. And have your Realtor provide you with comparable sales in the area so that you can make an educated decision about what the home is worth and what you are willing to pay for it. Keep in mind that if you are getting a mortgage on the property, the lender will only give you a mortgage for what they think the property is worth, not necessarily what you paid. So if there is a shortfall, you have to make up the difference in cash. If you don't have the financial means to do that, and don't have a finance condition in your offer that would give you the option to walk away, you may have to forfeit your deposit and could possibly get sued for damages. Most of the time the property appraises for what the house sells for, but always be prepared for something like that to happen, especially now with how much more over asking price people are paying these days to get a property.
The other thing you can do is a pre-offer home inspection. It's like any other home inspection, but just done before you write your offer. It costs a bit of money upfront but you will know the condition of the home and what repairs you will have to budget for. It will also help you come up with a price you are comfortable paying, knowing what you will have to fix.
Everyone has a different tolerance for risk, levels of motivation and financial means to purchase a property, so writing unconditional offers isn't going to work or be feasible for everybody.
If you need help with how to write a strong offer based on your situation to secure that dream house of yours, get in contact with me – I'd love to help.
Justin Pokrant
Winnipeg Realtor
Century 21 Bachman & Associates
204.997.5876