For the first time in the history of monthly MLS® sales, the Winnipeg Regional Real Estate Board's April sales tipped over the 2,000 threshold. The 2,055 sales in April edged out last month's sales of 1,975 and are up 53% over the 5-year average for this month. Dollar volume set a new record monthly high as well in April with $678.3 million transacted in sales — a 65% rise over this month's 5-year average.
The 2,615 listings remaining at month end are down 41% from the same time last year despite a dramatic fall off in new listings entered in April 2020 due to the pandemic economic shutdown. The good news is that year-to-date cumulative listings of 8,066 represent a 10% increase over 2020 and are less than 1% behind those entered in 2019.
Year-to-date MLS® sales after 4 months are 6,197, a 76% gain over the same period in 2020 while dollar volume of $2.0 billion increased 96% compared to 2020. The conversion of listings to sales is another metric indicating a supercharged market with 77% of all listings being sold. In the previous 5 years, this percentage has never attained 50% and you have to go back to 2004 and 2005 when the conversion percentage was as high as it is this year.
As for house prices, April was notable for a few reasons.
The southwest area of Winnipeg saw its average residential detached sales price go over $500,000 to end up at $521,625 and also be at the half million dollar mark for the first 4 months. Given this area of Winnipeg has a significant portion of sales within the city, it is not surprising Winnipeg's average residential detached sales price was skewed upward to reach just under $400,000 in April. The region outside Winnipeg ended up at $351,000.
April also ushered in 13 one-million plus sales with nine selling in southwest Winnipeg, including the highest one at $2,250,000. Higher priced house sales were also evident in the price range sales activity chart with the $500,000 to $749,999 capturing the most sales activity at 17%. A close second was from $300,000 to $349,999 at 16%.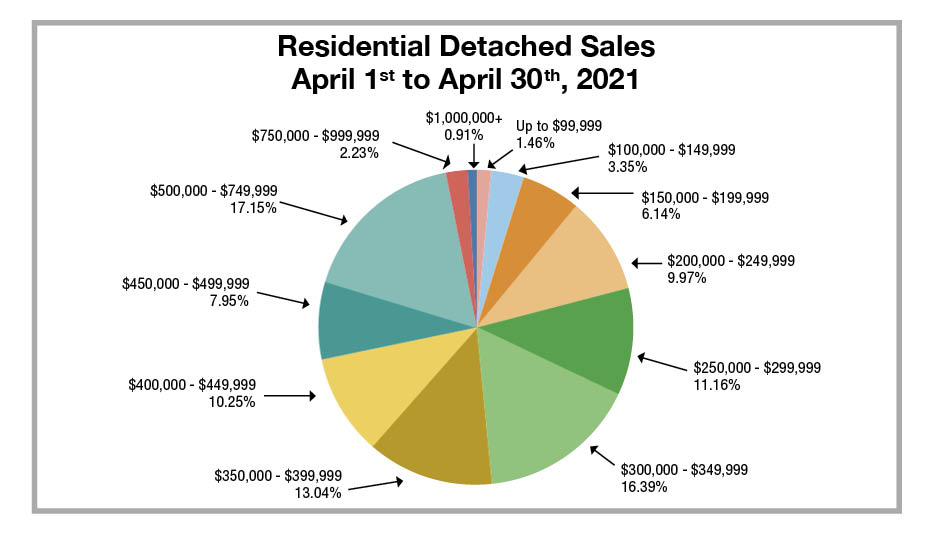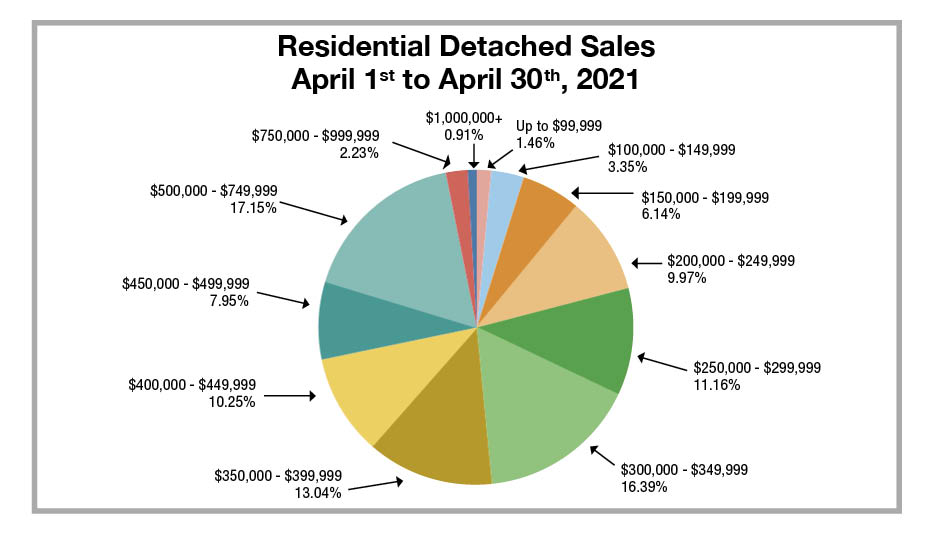 The brisk condominium sales in April saw the most sales activity at nearly 30% of total sales from $150,000 to $199,999 with the next busiest price range of $200,000 to $249,999 well behind at 18%. And not shockingly with all the bidding wars and lack of detached housing options, many buyers are looking at condominiums as alternatives. This likely explains why they have seen the biggest gain thus far with a 115% increase in sales over the same period last year.
If you have any questions about the real estate market, don't hesitate to reach out.
Justin Pokrant
Winnipeg Realtor
www.justinpokrant.com
204.997.5876